"Evolution" has become a dirty word in many places in America: Kansas (tho we had some
good news
there last week) and Ohio public school science classrooms, the
White House
, Fox News studios, my grandparents' Thanksgiving table...and that's all quite disheartening. But at least, I thought, evolution can plead sanctuary in the domain of real science--on college campuses, talks at scientific conferences, and papers published in scientific journals.
Now, apparently, even this latter asylum is under seige. According to a
report
released last week in
PLoS Biology
, when medical journals publish studies about things like antibiotic resistance, they avoid using the "E-word." Instead, antimicrobial resistance is (euphemistically, I suppose) said to "emerge," "arise," or "spread" rather than "evolve."
The authors of the
PLoS
report searched scientific journals published since 2000 for any papers that discussed antibiotic resistance. They then compared 15 randomly chosen articles from evolutionary journals (such as
Evolution
,
Genetics
, and
Proceedings of the Royal Society of London Series B
) with 15 randomly chosen articles from medical journals (such as
The Lancet
,
The New England Journal of Medicine
, and
The Journal of Antimicrobial Chemotherapy
).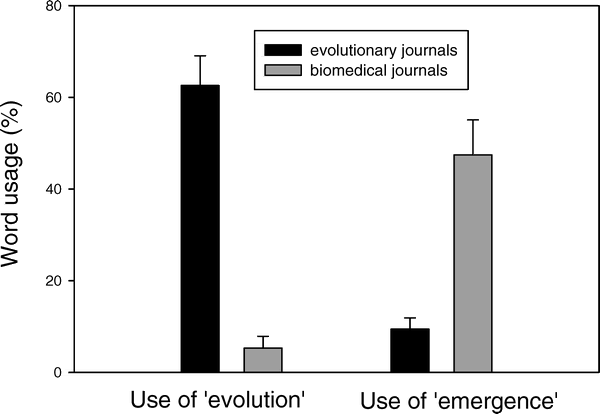 The results, in their words:
The results of our survey showed a huge disparity in word use between the evolutionary biology and biomedical research literature In research reports

in journals with primarily evolutionary or

genetic content, the word

"evolution" was used

65.8% of the time

to describe evolutionary processes (range 10%–94%, mode 50%–60%, from a total of 632 phrases referring to evolution). However, in research reports

in the biomedical literature, the word "evolution" was used only 2.7% of the time

(range 0%–75%, mode 0%–10%, from a total of 292 phrases referring to evolution), a highly significant difference (chi-square, p <0.001).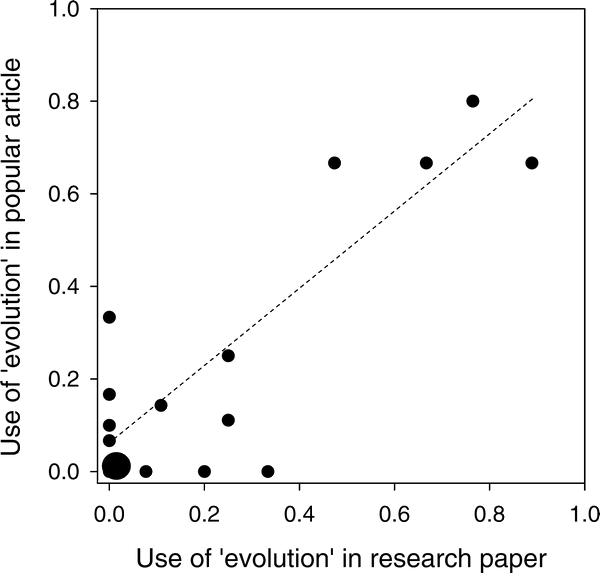 What does it matter, you ask, what terms the scientists use, as long as they understand the process? To find out, the authors did yet another literature search with the E-word--this time in the popular press. They searched for articles about antibiotic resistance in
The New York Times
,
The Washington Post
,
Fox News
, and the
BBC
. Then they checked to see if a correlation existed between the number of times the word "evolution" was used in a popular article and the number of times it was used in the original scientific paper that the news report was based upon. And guess what? There was a HIGH correlation (graph at left). As the authors put it:
This clearly shows that the public is more likely to be exposed to the idea of evolution and its real-world consequences if the word "evolution" is also being used in the technical literature.
So bottom line, the E-word is likely to get even dirtier if scientists (or doctors, anyway) skirt around its meaning even within a scientific article. Here's a scarier question: Why does the disparity exist between biology and medical journals? Are
doctors
actually less likely to "believe" in evolution?! Yikes.